Banding Station directions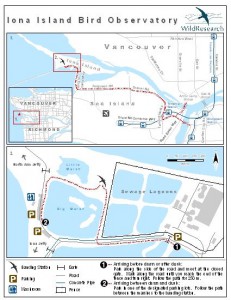 We encourage all our volunteers to use the most environmentally friendly travel solution possible. Access to the station requires a vehicle or bike as the closest sky train station is Templeton, which is still about 7 km from the park entrance. Carpooling may be an option depending which route our personnel or other volunteers are taking and where you are located.
If you are interested in carpooling, please join our Facebook Group, Iona Island Bird Observatory Volunteers. This group has been set up specifically for volunteers to coordinate transport to and activities at the station.
Alternatively, if you are not on Facebook, please contact the Bander-in-Charge to inquire about carpooling on the day of your shift (contact info will be available in the Shift Reminder emails). Depending on where you are traveling from, they may be able to offer a ride but this is not a guarantee.