Western Sandpiper Program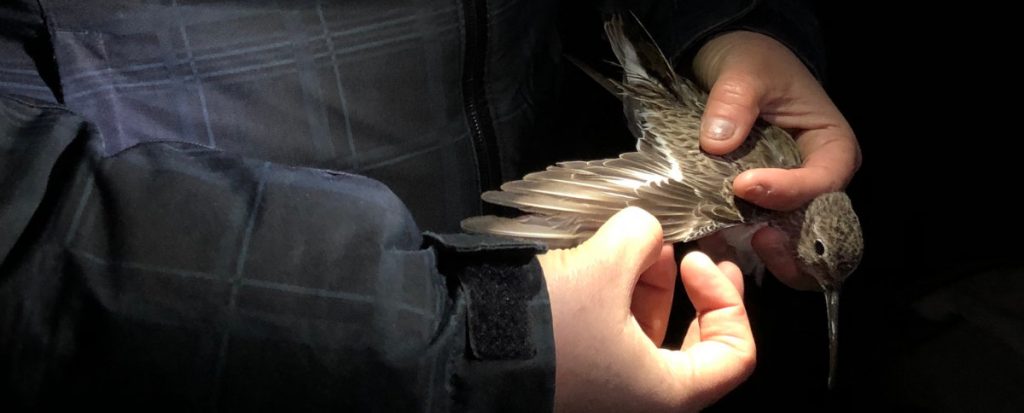 The mudflats of the Fraser River estuary provide important foraging habitat to millions of migrating shorebirds every year, allowing them to successfully travel the vast distances between their wintering and breeding grounds. However, these visitors face numerous threats throughout their range, from habitat loss and environmental contaminants to climate change. In order to protect shorebirds, we need to understand where these birds are spending their time and where to focus conservation action.
Beginning in 2020, WildResearch and Environment and Climate Change Canada launched the Western Sandpiper Program, which aims to gain a better understanding of the movement ecology of Western Sandpipers. Birds are captured at Iona Beach and Robert's Bank during the Spring and late Summer, and fitted with nanotags. These tags allow scientists to track individual birds as they migrate between Alaska and the coasts of North and South America, particularly how they spend their time at important stopover sites in the Fraser River estuary. Additionally, WildResearch conducts shorebird surveys at Iona Beach Regional Park throughout the Spring and Summer in order to track migration timing across years.
Volunteers for Western Sandpiper banding must have previous experience working with birds and mist nets, and should have a status of "intermediate" or above at IIBO. Volunteers of all skill levels are welcome to participate in the shorebird surveys at Iona Beach. Volunteering entails setting up/taking down mist nets, discussing research efforts with fellow bird enthusiasts, observing/extracting shorebirds from mist nets, as well as assisting with data collection. To volunteer, first ensure you are a WildResearch member, are available to volunteer at least 2 of the 4 nights for roughly 4 hours each night, ideally have your own waders, and then please email info@wildreasearch.ca. Due to current COVID-19 concerns we are only scheduling 6 people per night and carpooling can be discussed amongst volunteers. We hope to hear from you!