Fall 2015 Pelagic Trip
On Sept 20, 2015, 93 enthusiastic birders went to sea on WildResearch's fith pelagic seabird fundraiser. Details from the trip and the official trip list follows below. Photos from the trip can be viewed here!
For the week leading up to the pelagic, each new weather report predicted high winds and heavy precipitation. There is a limit to what the Francis Barkley can safely withstand, but because we had birders traveling from all over western Canada, (and one from Quebec!), we proceeded as planned. Saturday morning's pre-pelagic birding trip to Amphidrite Point was quite wet, but 15 WildResearch members stuck it out for two hours, and were rewarded with a handful of Surfbirds, Black Turnstones, and one Wandering Tattler. After the field trip we learned that Wayne Diakow had found a Northern Mockingbird in downtown Ucluelet and a Pacific Golden-Plover at Chesterman's Beach. These rare bird reports help put some wind in our sails for the pelagic trip.
Sunday morning we let the dock at 7am sharp and enjoyed the calm waters of the Ucluelet harbor. However, once we left the harbor, we motored head on into angry seas, fog, and rain. Within a couple kilometers from shore, good numbers of Sooty Shearwaters started turning up. The next few hours was rough going with on and off rain showers, but what kept us going was large flocks of Northern Fulmars circling the ship and small numbers of Buller's Shearwaters zipping by. Within an hour, the Sooty Shearwaters became quite scarce and were replaced by unusually large numbers of Pink-footed Shearwaters and more Northern Fulmars. On most of our pelagic trips, we often see small flocks of Sabine's Gulls that pass by the ship quite quickly, and are often not seen by everyone on board. This was the first trip where Sabine's Gulls were coming in behind the ship and going after the chum. Everyone had a chance to see at least one Sabine's Gull this year! A similar situation is typical of the Jaegers – they tend to come in quickly and then disappear. This trip we had a very co-operative Polmarine Jaeger off the stern that everyone could study in detail. We had Black-footed Albatross putting on a good show for participants as they came into the ship to feed on chum. Fog tends to disorient migrating songbirds, and we had one Savannah Sparrow and one other unidentified Sparrow follow the ship as it made its way through the fog. An exceptionally large sunfish was spotted loafing on the port. The sea calmed down considerably and the return trip was relatively comfortable.
Many people are to thank for organizing the pelagic trip logistics. Big thanks to Azim Shariff and Jay Brogan for chumming in the birds, Paul Levesque and Dan Froehlich for spotting and calling out birds, Roger Clapham for helping load the chum, Mikaela Davis for caring for the seasick, and the Captain and Crew of the MV Francis Barkley, for keeping us safe and going the extra mile to help us spot great seabirds. Thanks also to everyone that participated in WildResearch's Fall 2015 Pelagic Trip fundraiser.
And thanks again to all our participants! Looking forward to seeing you out on our next trip.
Birds seen well offshore:
Greater White-fronted Goose – 400
Cackling Goose – 400
Canada Goose – 1
Brant – 200
Northern Pintail – 200
American Wigeon – 60
Green-winged Teal – 2
Surf Scoter – 80
Red-throated Loon – 5
Pacific Loon – 3
Common Loon – 3
Black-footed Albatross – 10
Northern Fulmar – 120
Sooty Shearwater – 100+
Pink-footed Shearwater – 200+
Buller's Shearwater – 4
Fork-tailed Storm-Petrel – 3
Peregrine Falcon – 1
Red-necked Phalarope – 20
California Gull – 40
Herring Gull – 5
Glaucous-winged Gull – 5
Sabine's Gull – 20
Arctic Tern – 2
Tern species – 1
South Polar Skua – 2
Pomarine Jaeger – 4
Parasitic Jaeger – 2
Common Murre – 30
Pigeon Guillemot – 3
Ancient Murrelet – 2
Cassin's Auklet – 12-15
Rhinoceros Auklet – 10
Savannah Sparrow – 1
Goose species – 1000
Unknown Duck Species – 200
Unknown Sparrow – 1
Birds seen in the harbor:
Harlequin Duck – 2
Pelagic Cormorant – 15
Brandt's Cormorant – 4
Double-crested Cormorant – 2
Great Blue Heron – 1
Bald Eagles – 1
Black Oystercatcher – 10
Wandering Tattler – 1
Black Turnstone – 4
Surfbirds – 8
Glaucous-winged Gull – 20
Heermann's Gull – 3
Common Murre – 10
Rhinoceros Auklet – 20
Belted Kingfisher – 4
Northwestern Crow – 5
Fall 2013 Pelagic Trip
WildResearch's Sept 15th Pelagic Seabird fundraiser was a great success! Thanks to the 96 trip participants for making the day extra fun! A full list of the bird seen during the trip can be found below. Special thanks to:
Pablo Jost, our official Chum Master
Russell Cannings, Mike Boyd, and Paul Levesque: Spotters Extrodinaire. And everyone else who helped us call out birds!
The Captain and Crew of the MV Francis Barkley, for keeping us safe and going the extra mile to help us spot great seabirds.
And thanks again to all our participants! Looking forward to seeing you out on our next trip.
Birds seen well offshore:
Common Loon – 1
Pacific Loon – 16
Red-throated loon – 1
Western Grebe – 3
Red-necked Grebe – 10
Horned Grebe – 6
Black-footed Albatross – 3 to 5
Northern Fulmar – 3 to 5
Pink-footed Shearwater – 300
Flesh-footed Shearwater – 2
Buller's Shearwater – 7
Sooty Shearwater – 1000 to 1500
Manx Shearwater – 1
Leach's Storm-Petrel – 1
Fork-tailed Storm-Petrel – 1
Brandt's Cormorant – 2
American Wigeon – 2
Northern Pintail – 12
White-winged Scoter – 6
Surf Scoter – 30
Bald Eagle – 2
Sanderling – 1
Shorebird spp – 5
Long-billed Dowitcher – 1
Red-necked Phalarope – 150
Red Phalarope – 7
South Polar Skua – 7
Pomarine Jaeger – 12
Parasitic Jaeger – 4
Sabine's Gull – 20
Herring Gull – 1
Thayer's Gull -1
Glaucous-winged Gull – 15
California Gull – several hundred (500+)
Black-legged Kittiwake – 2
Common Murre – several hundred (200+)
Rhinoceros Auklet – 15
Cassin's Auklet – 2
Songbird seen flying around the ship and landing on the ship 40 km offshore:
Yellow-rumped Wabler – 1
Chestnut-sided warbler – 1
Townsend's Warbler – 1
Yellow Warbler – 3
White-throated sparrow -1
Birds seen in the harbor:
Rock Dove – 1
Belted Kingfisher – 2
Northwestern Crow – 1
Great Blue Heron – 1
Western Gull – 1
Mammals:
Orcas – 4
California Sea Lion – 6
Humpback Whales – 20
White-sided Dolphin – 2
Dahl's Porpoise – 6
Spring 2012 Pelagic Trip
On the 29th April, 2012 eighty six WildResearch members boarded the M. V. Frances Barkley in Ucluelet for WildResearch' s spring pelagic trip to La Perouse Bank.  The weather looked promising, with low cloud cover, a 10 knot wind and 2 m swells.  The first 5-7 km were a bit rough, but most of the people on board had experienced worse sea conditions.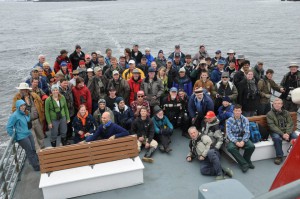 Four Orcas saluted the ship once we were in open water, but birding was relatively slow until the 10 km mark.  Around this point we started to see small rafts of Sooty Shearwaters, and our first Black-footed Albatross and Sabine's Gull.  The frequency and size of Sooty Shearwater rafts peaked at 15 km out, with a number of rafts of 200 birds.  Past the 30 km mark, we started to have regular visits from Black-footed Albatrosses that flew in and circled the ship repeatedly before landing and feeding on fish chum.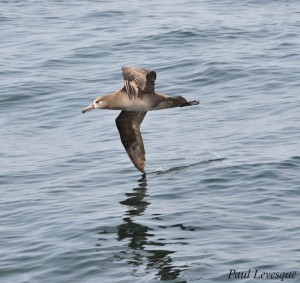 Spring pelagic trips generally tend to see fewer numbers of birds and have lower species diversity, but the real draw is the chance of finding rare seabirds, species that birders dream of seeing. We had an impressive number of Black-footed Albatrosses and good numbers of Sooty Shearwaters, but Pink-footed Shearwaters were scarce. Unfortunately we did not see any terns, jaegers or fulmars.
The highlight of the trip was a Manx Shearwater that was first spotted at 15 km on the way out and was seen by a handful of people before it disappeared between the waves as it flew away from the ship. On the way back likely the same bird was sighted near the original location, but this time most people on the ship were able to see it and some good photographs were taken. This is the 22nd occurrence of Manx Shearwater in BC, but these sighting were the first time the species was seen by a large number of observers. It was a very exciting find for the end of the trip.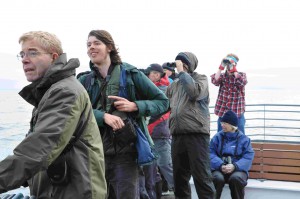 Tom Plath, Russell Cannings and Jeremiah Kennedy did a great job of spotting birds and relaying that information to the other decks of the ship. Once again we had many great birders on board that were really helpful about calling out sightings and helping others find what was being seen – there was some exceptional teamwork happening! Pablo Jost worked hard getting the chum in the water, while WildResearch Directors Paul Levesque, Christine Rock, Emily McAuley, Jay Brogan, and Kala Harris made sure that the trip ran smoothly. Special thanks go to Christine Rock who did the bulk of the trip organizing. The crew of the Frances Barkley was once again very helpful and a pleasure to work with.
Offshore Sightings
Birds
Tufted Puffin – 3 (one sat on the water close to the ship giving great looks; the two others were flybys)
Ancient Murrelet – 7
Marbled Murrelet – 5
Common Murre – 30
Pigeon Guillemot – 5 (near shore)
Cassin's Auklet – 40 (mostly small flocks)
Rhinoceros Auklet – 40 (most were within 15 km of shore)
Sooty Shearwater – 2000 (the first were seen within 5 km of shore and they became abundant past 10 km out)
Pink-footed Shearwater – 8
Manx Shearwater – 1 (YES!)
Black-footed Albatross – 20
Fork-tailed Storm-Petrel – 5
Red-necked Phalarope – 15
Red Phalarope – 75 (individuals and a flock of 10-20)
Sabine's Gull – 20
Bonaparte's Gull – 20 (often associating with Sabine's Gulls)
Northern Pintail – 40 (2 different flocks flying 37 km out)
Green-winged Teal – 2 (37 km out)
Brant – 8 (37 km out)
Pacific Loon – 200 (most were in breeding plumage)
Marine Mammals
Humpback Whale – 70 (great views of a number of Humpbacks close to the ship and many could be seen blowing in the distance)
Grey Whale – 3 (near shore)
Orca – 4 (2 males and 2 female near shore)
Harbor Porpoise – 2 (near shore)
Fur Seal – 1
Sea Otter – 3 (7 km out)
Fall 2011 Pelagic Trip
Birds:
Common Murre
Rhinocerous Auklet
Tufted Puffin
Pigeon Guillemot
Buller's Shearwater (32km)
Sooty Shearwater
Pink-footed Shearwater (15km)
Black-footed Albatross (37km)
Northern Fulmar
South Polar Skua
Pomarine Jaeger
Parasitic Jaeger
Sabine's Gull (37km)
Fork-tailed Storm-Petrel
Sanderling (30km)
Red Phalarope
California Gull
Glaucous-winged Gull
Mew Gull
Thayer's Gull
Herring Gull
Pacific Loon
Common Loon
Northern Pintail
Green-winged Teal
Bald Eagle
Northwestern Crow
Belted Kingfisher
Surfbird
Black Turnstone
White-winged Scoter
Surf Scoter
Marbled Murrelet
Marine Mammals: