Pelagic Trip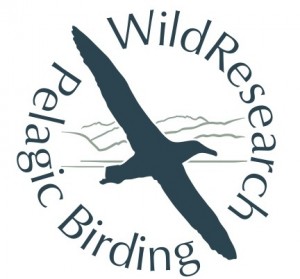 Our next pelagic trip is TBD.
You must be a member to join.
WildResearch's Pelagic Trip takes us from Ucluelet, BC aboard the MV Frances Barkley on a seven hour voyage to La Perouse Bank in search of pelagic birds. The trip is a fundraiser for WildResearch's programs.

The Ship
The MV Frances Barkley is a 128 foot, 300 ton coastal freighter/passenger vessel with three levels of observation decks, washrooms, and indoor lounge with cafeteria serving hot food and drinks. Built in Norway, the vessel has an ice-rated hull and is built for the rough seas of the North Atlantic. The vessel should provide a stable platform for viewing pelagic birds. Given the size and seaworthy design of the MV Frances Barkley, the trip is unlikely to be cancelled due to poor weather. We will also be taking on a large quantity of fish offal to chum the waters and attract pelagic birds to the ship.
The Trip
We will begin boarding the MV Frances Barkley in Ucluelet at 6:30am and depart at 7:00am. We will then travel to La Perouse Bank and spend about 3.5 hours at 37 km from land, before returning to Ucluelet at approximately 2:30pm. Our on-board guides will point out the bird and other marine life.
What Can You Expect To See?
As we leave land, we will see most of the seabirds, ducks and gulls that can be regularly seen from shore, including: Brandt's, Double-crested and Pelagic Cormorants, Bonaparte's, Mew, California, Thayer's and Glaucous-winged Gulls, Common Murres, Pigeon Guillemots, Marbled Murrelets and Rhinoceros Auklets.
As we travel past 5 km from shore, we should start to see our first Sooty Shearwaters. We will also start to see species such as Parasitic Jaeger, Cassin's Auklet, Ancient Murrelet, Tufted Puffin, and Sabine's Gull. As we approach La Perouse Bank we should see more Sooty Shearwaters, Pink-footed Shearwaters, Red-necked and Red Phalaropes, and South Polar Skua. At La Perous Bank we could see also see Buller's and Flesh-footed Shearwaters, Black-footed Albatross, Fork-tailed Storm-Petrel, Pomarine Jaeger, and Arctic Tern.
For a list of what species have been seen in past years, click here.
For Photographers
We will be taking time to provide quality opportunities for taking photographs of pelagic birds. We will be making long stops at La Perouse Bank to chum the water and bring the birds within metres of the ship. Three deck levels ranging from the waterline up to 35 ft above the waterline, provide a range of viewing angles. Tripods are not permitted on board, however, monopods and bean bags are allowed.
What To Bring
There will be plenty of room on the ship to store a daypack, so bring what you will need to be comfortable and to have a great trip. The weather is always difficult to predict, so be prepared for the worst. Bring a warm hat, extra sweaters, gloves, windproof outer shells (pants and jacket), rain gear, soft-soled waterproof footwear (rubber boots or equivalent), sunglasses, sunscreen, and lip balm. Don't forget binoculars, field guides, notebooks, pencils/pens, lens cloths, camera/lens, extra batteries, and memory cards.
Do not bring tripods for telescopes or cameras. Photographers are permitted to use monopoles or bean bags.
The cafeteria will be open for the duration of the trip, but if you have special dietary needs please bring your own food.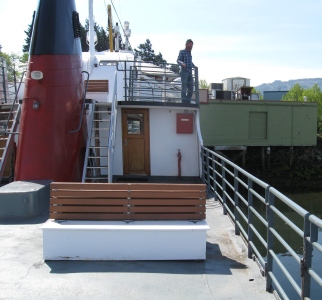 Motion Sickness
If you have a history of motion sickness, consider consulting a medical doctor about prescription medications that can ease the effects of motion sickness. If you do not generally suffer from motion sickness, consider the following recommendations:
Do not drink alcohol the day before the trip
Some find taking a Gravol pill for two days before the trip alleviates symptoms; if Gravol makes you drowsy, take the recommended dose before going to bed
Research motion sickness remedies and plan ahead
Accommodations and Travel to Ucluelet
WildResearch is not offering any accommodation or ground transportation for the pelagic trip. We do recommend booking accommodation well in advance as Ucluelet can be very busy during the spring. Good starting points for organizing your accommodation and travel arrangements are Tourism Ucluelet and the Tofino Guide.
Recommended accommodations include the Surf's Inn Guest House and Cottages, Terrace Beach Resorts, and the Ucluelet Campground in Ucluelet, and the Wickaninish Inn in nearby Tofino.
Ucluelet may be reached from Vancouver, BC either by air with Orca Air or by ferry to Nanaimo with BC Ferries. Travel time from Nanaimo to Ucluelet is approximately 2.5 hours.
Ready to join us?
Learn more about pelagic trip reservations.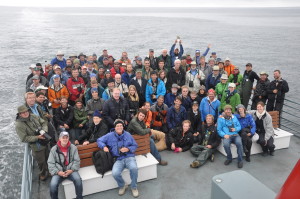 Have Additional Questions?
Email: pelagics@wildresearch.ca