Information for Surveyors
Protocol Summary
Safety
Resources
Tips for Surveyors
---
To volunteer or for more information about the WildResearch Nightjar Survey, visit our Nightjar Atlas or contact your Regional Coordinator
Data Entry Tutorial Video
The following video provides a short tutorial on how to use our data entry interface on the Nightjar Atlas. Check it out to learn how the new interface works and don't hesitate to email your coordinator if you have questions!
Video credit: Shayna Hamilton
Orientation Video
In case you missed your local orientation, check out this short video by Nightjar Technician Alessandra Hood for an introduction to the WildResearch Nightjar Survey, the Nightjar Atlas, and the national protocol!
Video credit: Alessandra Hood
Protocol Summary
Starting in 2016, the WildResearch Nightjar Survey follows the Canadian Nightjar Survey Protocol. Following a standardized national protocol will ensure that data collected by WildResearch volunteers can be directly integrated with data from other nightjar survey programs for large-scale conservation analyses.
Each route is a series of 12 road-side stops (some routes have 10 stops)
Each route needs to be surveyed once per year between June 15 and July 15

Within 1 week of the full moon is recommended in areas that may have Common Pooorwill or Eastern Whip-poor-will (June 15 – June 25, 2019)

Surveys start at 30 minutes before sunset
At each station, you will listen quietly for nightjars for six minutes
Please do not use audio lures, lights or any other method to increase your detection of nightjars. Remain stationary outside your vehicle for the entire survey period and do not count any birds heard before or after the survey period. Please review the protocols prior to surveying.
Email your Regional Coordinator if you have any further questions.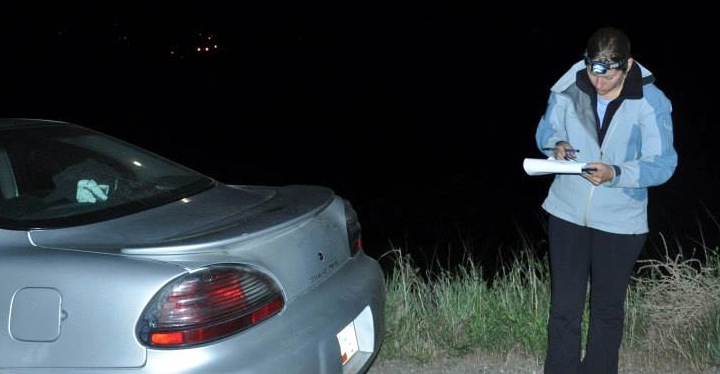 WildResearch member records the number of Common Poorwills and Common Nighthawks heard at a survey stop in the southern Okanagan.
---
Safety
Consider conducting surveys in a team of two
If surveying alone, make sure someone knows where your survey route is and what time you will return from surveying
Park your vehicle off the road during survey stops
Stand off the road surface when conducting surveys
Leave parking lights on throughout the duration of a count
Wear a reflective vest or use a headlamp so that other drivers are aware of your location
Conduct the survey near the road to avoid trespassing on private property
Check your clothing and skin for ticks when you get home to prevent the transmission of lyme disease and other tick-borne illnesses
Non-WildResearch members should complete the Day Membership form on Better Impact before surveying in order to be covered under liability insurance.
---
Resources
Protocol
Please see the Canadian Nightjar Survey Protocol on our Resources page here.
Datasheet
Use the datasheet at the end of the protocol to record your survey observations.
Data Entry Template
There are several options for data submission:
Preferred: enter your data using your account on the WildResearch Nightjar Atlas at www.nightjar.ca
Scan/photograph your data sheets and email to nightjars@wildresearch.ca.
Mail your data sheets to:
WildResearch Nightjar Survey
c/o Elly Knight
7111 82 St NW
Edmonton, Alberta  T6C 2W9
Waiver Form & Liability Insurance
We encourage all WildResearch Nightjar Survey volunteers to become annual WildResearch members (only $30 per year for general membership or $25 for students) in order to ensure full liability coverage, encourage us to reach our goal of training and building a community of conservation scientists, and help us cover the costs of running the program by building a membership that makes us more competitive for grants. Other benefits to WildResearch membership include BC Nature membership, a weekly newsletter with articles on current wildlife research  and employment opportunities, and much more! Learn more about membership and join us here.
For volunteers that do not wish to become annual WildResearch members, please fill out our day waiver form online on Better Impact. Please follow these steps before you complete your survey to ensure you are covered by liability insurance during your survey:
Pick the dates you plan on completing your survey. Make sure you choose at least one back-up date in case of bad weather. The online form allows you to choose up to 10 dates; please email nightjars@wildresearch.ca if you require more than 10 dates. Please keep in mind that WildResearch incurs a financial cost for each date.
Sign-in to Better Impact here. First-time users will need to create an account using your email address.
Fill in the Day Membership form with your selected survey dates.
---
Tips for Surveyors
To practice your nightjar and nocturnal bird species identification, we recommend the following resources:
Online – Before You Survey
Dendroica: an interactive website designed to help learn bird identification. Listen to recordings and look at photos of potential species.
Xeno-canto: an online database of recordings of birds from volunteers across the world.
Apps – While You Survey
Other Species of Interest
Other nocturnal and crepuscular species of conservation interest that it may be useful to document, and that you might want to learn include:
Owls
Yellow Rail
American Woodcock
Chimney Swift